Tsugaru Food Heritage
Authorized Traditional Shop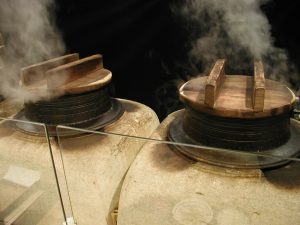 Try our authentic local cuisine!
 There is no admission ticket needed for the food area. Please feel free to just use our food shops.
Tsugaru Food Heritage Traditional Shop
Tsugaru food heritage is not food that became popular due to a recent local food boom or even food that was specially made to boost small towns, it is food that has been eaten by locals in their daily lives in order to live. It is true home cooking!
In December of 2008, our shop was chosen as one of 34 shops in Aomori Prefecture to be authorized as a Tsugaru Food Heritage Traditional Shop.Every day we make several kinds of food that has been selected as Tsugaru Food Heritage.
It may look simple but it is food that is prepared and matched perfectly with the basics of Japanese cooking: miso soup, rice and pickled vegetables.
Fluffy rice cooked in our special "Kamado"
200 kg of  Aomori Prefecture Tsugaru Roman rice is cooked in a stone cooker (Kamado) and large iron pot.
Our specially made miso soup
We use miso that has been fermented stably with hot spring heat, using only Aomori prefecture soybeans as 100% raw materials. This soup is made using only kelp from Oma and "dried shark" from Aomori prefecture and no chemical seasoning.
Our specially made pickled vegetables
Our pickled vegetables are made with local vegetables.
Other info
We have several types of local cuisine available, such as a Tsugaru Straits ikura (salmon roe) and salmon over rice set and a Kaiyaki (scallops and eggs dish) Kenoshiru soup set along with daily specials.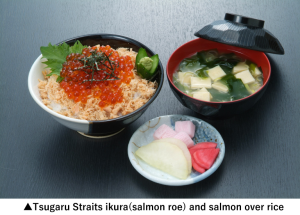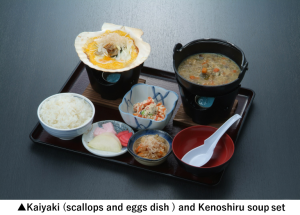 We also have daily specials.
Some items on our menu are limited so there may be a chance that we are not able to make the dish.
Due to our priority reservation system, we may not be able to accommodate individuals when we have a large group reservation and our shop is fully booked.
Our menu changes regularly.
We can accommodate groups of up to 200 people (4 separate places will be used).
We have only tables and chairs.
For those interested in group menus, please request a group food menu pamphlet.
Along with the restaurant, there are takeout shops serving 100% Aomori Prefecture Tsugaru Roman rice made rice balls, soft serve ice cream,shaved ice (seasonal), draft beer and other fast food.
Parking lot information
---
Parking lot business hours are from 9:00 AM to 5:00 PM.

During the Hirosaki Cherry Blossom Festival our hours are extended.
For those who shop in our stores, for a normal car, by displaying your receipt you can have one hour of parking free.Every 30 minutes after the first hour is 110 yen.
With two or more receipts you can have up to 2 hours of parking free, every 30 minutes afterwards is 100 yen.
During the Cherry Blossom Festival, Neputa Festival, Chrysanthemum and Fall Foliage Festival,Snow Lantern Festival, the parking lot fee system may be different.

As you are leaving please show the attendant your parking ticket and any receipts from the Tsugaru-han Neputa Village.
---