No transfer between Tsugaru-han Neputa Village(Hirosaki Park,Hirosaki Castle)and Hirosaki Station and Apple Park!
Konan Bus "Tamenobu Bus"
As an everyday means of transportation, the "Tamenobu Bus" is a convenient way to make your way around the sights of Hirosaki.There is no transfer between JR Hirosaki Station and Tsugaru-han Neputa Village!The Tsugaru-han Neputa Village bus stop is located in front of the ticket office of Tsugaru-han Neputa Village.It is very convenient for those taking the JR line, Konan Railway Konan Line, and highway bus through Hirosaki Station.
Click here for the Tamenobu Bus route map.
Departs from the No. 4 bus stop in front of JR Hirosaki Station(Runs from April 1st to November 30th)
Due to congestion during the Hirosaki Cherry Blossom Festival, the Tamenobu Bus will not stop inside Tsugaru-han Neputa Village.
During the Hirosaki Cherry Blossom Festival, the planned bus stop will be in front of the Neputa Village parking lot entrance.
"Dotemachi Loop Bus"
Due to the limited number of Tamenobu busses, you can also use the "Dotemachi Loop Bus" if you cannot find a suitable time.
Click here for the loop bus route map
Departs from the Hirosaki Bus Terminal(1st floor of Ito Yokado.)Please get off at the "Bunka Center Mae"(Cultural Center)stop (Approximately a 5 to 6 minute walk to Neputa Village).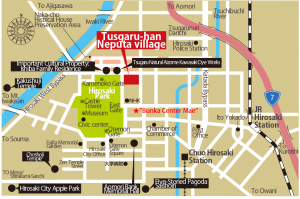 Operating hours(Departs: once every 10 minutes)
[From April to November]10:00 AM to 6:00 PM
[December to March]10:00 AM to 5:00 PM