Hirosaki City
Hirosaki Castle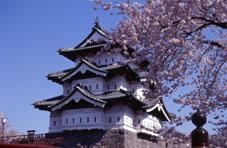 The symbol of the castletown Hirosaki, is Hirosaki Castle, which in 2011 had its 400th year anniversary of being constructed, is designated as an Important Cultural Property by the government.
The castle tower is located in the middle of the 49,000 m2 Hirosaki Park and tourists from all over Japan come to visit this famous cherry blossom landmark.
The Honmaru,Kita-no-kuruwa area is a charged admission area.
Choshoji Temple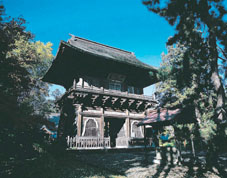 The family temple of the Tsugaru Clan, it is an Important Cultural Property.The second Tsugaru Lord, Nobuhira built this temple and features from the early Edo Period still remain.
Five-Storied Pagoda at Saishoin Temple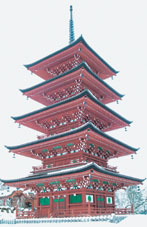 This is a National Important Cultural Property. It was built as a memorial for those who died when the Tsugaru Lord, Tamenobu, unified Tsugaru. This is the northernmost five-storied pagoda in Japan and is said to be the most beautiful in Tohoku.
Hirosaki City Apple Park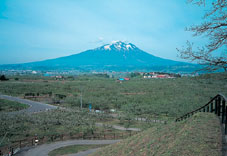 This is a must-see sightseeing spot of the number one producer of apples in Japan, Hirosaki City. There is information on apples, you can purchase different apple products and you can try your hand at apple picking. This park is full of fun things to do while you can also learn many things about apples.
Naka-cho Historical House Preservation Area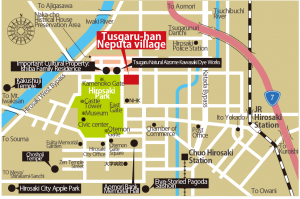 The Naka-cho area has buildings built in the clan era of Japanese history, where you can learn about the lifestyle of the samurai from that period, making this an important preservation area.
(Click for a larger picture)
Mount Iwaki
Iwakiyama Shrine
Established over 1200 years ago, the current buildings were built at the beginning of the formation of the Tsugaru Clan over 390 years ago.
[Approximately 30 minutes from Neputa Village]
Tsugaru Iwaki Skyline (Up to the 8th Station)
[Approximately 50 minutes from Neputa Village]
*For more information about sightseeing in Hirosaki City, please visit the Hirosaki Tourism and Convention Bureau homepage!
*For more information about sightseeing, access, hot springs, lodgings in the Mt. Iwaki area, please visit the Iwaki Tourist Association Homepage!
Aomori Prefecture
World Natural Heritage Site "Shirakami Sanchi" (Naka-Tsugarugun Nishimeya Village,Nishi-Tsugarugun Ajigasawa Town,Fukaura Town)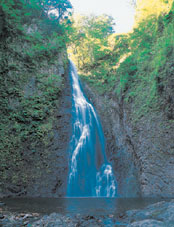 Shirakami Sanchi Visitors Center
There is a general exhibition hall where you can experience the natural environments, lifestyle and culture of Shirakami Sanchi. A large screen allows you to experience the four seasons of the World Natural Heritage site, Shirakami Sanchi. There is also a garden where you can see beech and water beech trees that are native to the Shirakami Sanchi region.
[Approximately 25 minutes by car from Hirosaki City]
Aqua Green Village ANMON
A campground located near the entrance to Anmon Falls on the eastern side of Shirakami Sanchi.With an outdoor bath and walking paths, you can truly enjoy what Shirakami Sanchi has to offer here.
[Approximately 50 minutes by car from Hirosaki City]
Sannai-Maruyama Special Historical Site (Aomori City)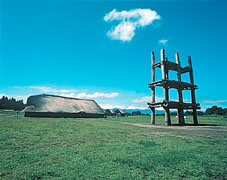 A huge archeological site that will change your perspective of the early to middle Jomon period.
[Approximately 50 minutes by car from Hirosaki City]
Towada-Hachimantai National Park (Aomori City,Towada City,Kuroishi City,Hirakawa City)

Oirase Gorge
The only gorge in Lake Towada, there are over 10 waterfalls and scenic rocks that one can see and experience the four seasons.From Lake Towada's Nenokuchi to Yakiyama, one can take a scenic walk along the 14km promenade within the gorge.
[Approximately 90 minutes by car from Hirosaki City)]
Hakkoda Mountains
Located in the middle of Aomori Prefecture, connected to the Nasu Volcanic Zone, the Hakkoda Mountains are divided into the Northern Hakkoda Volcanic Group and Southern Hakkoda Volcanic Group.At around 400 to 1000 m above sea level, you will find beech trees, above that you will find coniferous trees such as Aomori Todomatsu (Maries fir) and at the top of the mountains you will find alpine plants growing.At the foot of the mountains you will find the Tashirodai,Kayano Plataeu wetlands.There are many hot springs such as Sukayu, Tsuta, Yachi and Sarukura, where many hot springs fans from all over Japan come to visit.
[Approximately 70 minutes by car from Hirosaki City]
Lake Towada
A caldera lake that spans over both Aomori and Akita Prefectures.It is the third deepest lake in Japan and also the 13th largest lake in Japan.You can take an excursion boat cruise around the lake where you can enjoy the beauty of the four seasons.
[Approximately 2 hours by car from Hirosaki City]
Aomori Spring Ski Resort (Nishi-Tsugarugun Ajigasawa Town)
Located in the northernmost point of Honshu, this is a full-scale ski resort with top quality dry powder snow and a stable snowfall.With its location at the foot of Mount Iwaki, you can view the beauty of the Sea of Japan as you ski.The season is from the beginning of December to the beginning of April, with an altitude difference of 518 m, an inclination of 30 degrees and a maximum run distance of 3.5 km.
[Approximately 40 minutes by car from Hirosaki City]
Aomori Spring Ski Resort Homepage
Aomori Spring Golf Club (Nishi-Tsugarugun Ajigasawa Town)
The strategic design of the course caters to the levels of the golfers which makes this course enjoyable for all levels of customers.Also, from the clubhouse terrace you can have a scenic view of the Sea of Japan and the Tsugaru plains.After a round, enjoy a drink at the King's Inn while you watch the sunset over the Sea of Japan.
[Approximately 40 minutes by car from Hirosaki City]