No admission ticket is required for the shopping area. Feel free to browse around our shopping area.
Antenna Shop Hirosaki Store (Neputa Village Shop)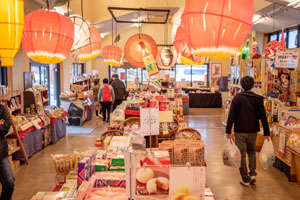 We sell various products from Aomori Prefecture in one of the biggest, local locations.We have souvenirs as well as daily foodstuffs.
Note:"Neputa Village Shop" is a tax-free shop.
JA Tsugaru Mirai Ishikawa Branch Apple Direct Shop "Ringo-ya"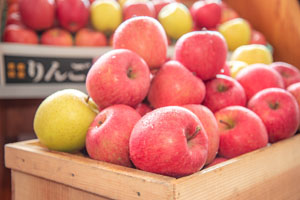 Hirosaki is proud to be the number one harvester of apples in Japan. The JA Tsugaru Mirai Ishikawa Branch sells these Aomori apples.
Depending on the harvest time, different types of apples and juice and apple products are sold.
Note:Depending on the apple harvest time, there might be times when products are not sold.
Hometown taste "Meiya" Nakahata Hand-baked Senbei Main Store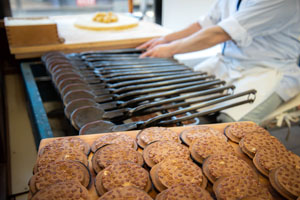 Hand-baked senbei are made in front of you by a Senbei Artisan.Using traditional techniques from the past that have been preserved from generation to generation, please try our preciously baked senbei.
JA Tsugaru Hirosaki Farmer's Market "Hirosaki Shinsengumi"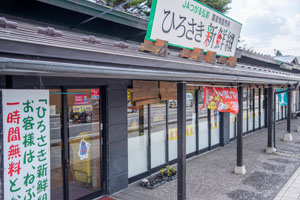 This farmer's market has rice, freshly picked vegetables and flowers, from members of Hirosaki City's JA Tsugaru Hirosaki.
Area Map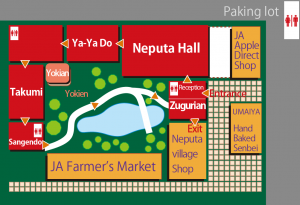 Guidance of the parking lot
Parking lot business hours are from 9:00 AM to 5:00 PM.

During the Hirosaki Cherry Blossom Festival our hours are extended.
For those who shop in our stores, for a normal car, by displaying your receipt you can have one hour of parking free.Every 30 minutes after the first hour is 110 yen.
With two or more receipts you can have up to 2 hours of parking free, every 30 minutes afterwards is 110 yen.
During the Cherry Blossom Festival, Neputa Festival, Chrysanthemum and Fall Foliage Festival,Snow Lantern Festival, the parking lot fee system may be different.

As you are leaving please show the attendant your parking ticket and any receipts from the Tsugaru-han Neputa Village.
---