Cycle Net HIROSAKI
Cycle Net HIROSAKI (rental bicycles for tourists) has five cycle stations around Hirosaki City where you can rent a bicycle.
Cycle Net information and inquiries are to be made to:
(Hirosaki Municipal Tourist Center Tel: 0172-35-5501)
Fee
Ordinary bicycle one time/ one bicycle: 500 Yen
Note:Rental of electric bicycles can only be done at the Hirosaki Municipal Tourist Center
Operating hours and Cycle Stations
Tsugaru-han Neputa Village Station (Rental hours 8:30 AM to 4:00 PM)
Rentals can be made at the parking office located at the entrance to the parking lot
(On the outer moat side of Hirosaki Park).
Note:For more information please click here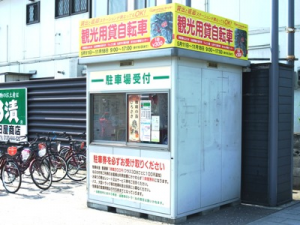 Important points
Rentals can be made at each station after filling out an easy form. An ID with proof of address is required
There is a limit to the number of bicycles (A total of 100 bicycles).
Bicycles cannot be used for more than one day.
Elementary school student usage must be accompanied with an adult usage also.
Although there is accident insurance for those who follow traffic rules, there may not be coverage for those who do not follow traffic rules.
Reservations are not taken for bicycles.