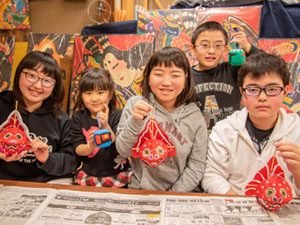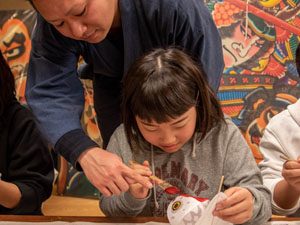 Make / Learn / Communicate
Kingyo (Goldfish) Neputa Painting
Tsugaru Kite Painting
Mini Fan Shaped Neputa Wall Stand
Apple "Dorei" (Ceramic Bell) Painting
Tsugaru Pottery Painting
Tsugaru Clay Pottery
Shitakawarayaki Pigeon Whistle
Hirosaki Kokeshi Doll Painting
Wooden Dharma Prayer Doll
Tsuri Spinning Top Painting
Tsugaru Lacquerware (Chopsticks,Hand mirror,Spoon,Sake Cup)
Tsugaru Natural Indigo Dyeing (Aizome)
Important Points:
The seating capacity of our cultural experience production room is about 60 to 100 people.
For numbers over that, please contact us for more information.
Tsugaru Lacquer making will take place only at Tsugaru-han Neputa Village.
Tsugaru Natural Indigo Dyeing Aizome will take place at the Dye Works, on the corner, across the street from the Tsugaru-han Neputa Village.
We can go to your lodgings etc. for classes. But only for one theme for over 30 people. Unfortunately, indigo dyeing, Tsugaru lacquerware are not offered.
The Shitakawarayaki Pigeon Whistle and Apple Ceramic Bell have a 1000 piece yearly limit.
There is no international shipping available.
All classes are conducted in Japanese. Although there might be some information in English, it may not be enough to understand everything. It is recommended that there is someone in the group who has some basic Japanese conversational ability.